28th ISCP Annual Scientific Meeting
23rd - 25th November 2023
It is our great privilege and pleasure to cordially invite all of you to our upcoming 28th ASM ISCP 2023 in Seoul, South Korea. The scientific meeting is jointly organized by ISCP (International Society of Cardiovascular Pharmacotherapy), KSCVP (Korean Society of Cardiovascular Pharmacotherapy), and KSCP (Korean Society of Cardiovascular Disease Prevention).
ISCP 2023 will provide key insight, practice-changing updates, and cutting-edge educational content with outstanding world-class professionals. It will bring together key stakeholders in all areas of cardiovascular pharmacotherapies, cardiovascular disease prevention, and better patient care. It is our pride, privilege, and pleasure to keep highly educational communications transpiring through ISCP 2023.
For more details on the event's venue, registration process, and the preliminary programme please visit the meeting's website >> https://iscp2023.org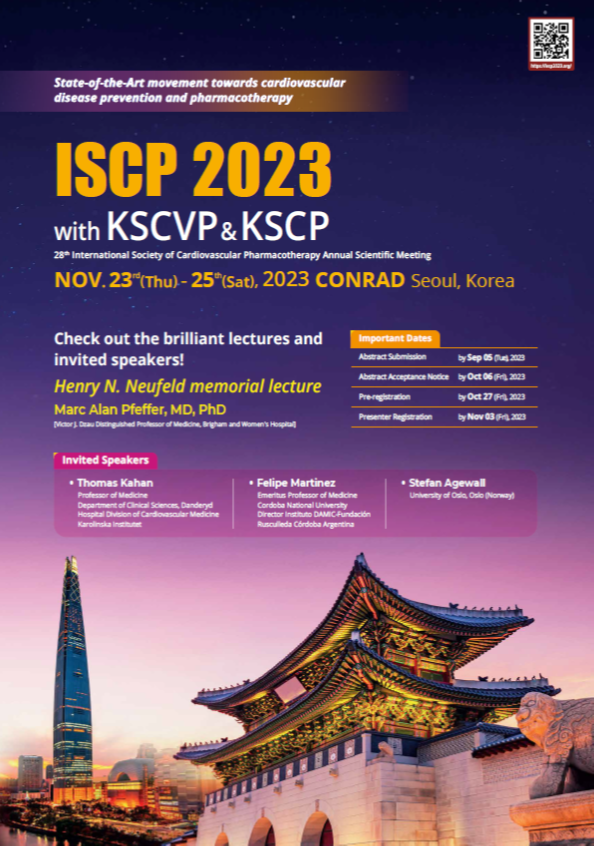 Upcoming Events
Highlights
The latest reviews, resources and expert analysis from our website.
newsfeed
ISCP book series
Current Cardiovascular Therapy
Kaski, Juan Carlos.
Series Editor: Juan Carlos Kaski Cardiovascular pharmacotherapy is a fast-moving and complex discipline within cardiology in general. New studies, trials and indications are appearing on a regular basis. This series created with the support of the International Society of Cardiovascular Pharmacotherapy (ISCP) is designed to establish the baseline level of knowledge that a cardiovascular professional needs to know on a day-to-day basis. The information within is designed to allow readers to learn quickly and with certainty the mode of action,...
Antiplatelet and Anticoagulation Therapy

A. Ferro, D.A. Garcia (Eds.)

Pharmacological Treatment of Acute Coronary Syndromes

Avanzas, Pablo; Clemmensen, Peter(Eds.)

Atrial Fibrillation Therapy

Gheorghe-Andrei Dan, Antoni Bayes de Luna, John Camm(Eds.)
board of directors
Providing a leadership and advocacy role amongst members of their national societies.
&nbsp