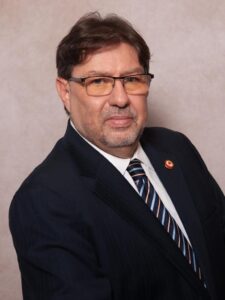 Dr. Ponte is ISCP Governor for Venezuela. ISCP Governors act as representatives for different countries worldwide to encourage local participation and contribute to the ISCP's educational programmes.
Dr. Ponte was born in Caracas in 1960. He graduated from Venezuela Central University in 1986. He made his Post-Doc Studies In Internal Medicine Finished year 1990 and in Cardiology, finishing in 1994, both at Venezuela Central University.  Dr. Ponte is Professor Emeritus of Preventive Cardiology and Founder and former Director of the Cardiovascular Prevention Unit at the Cardiovascular Service, Hospital Dr. Domingo Luciani, Caracas-Venezuela. Currently, he is the Chairman of the Cardiometabolic Unit At La Floresta Clinic Institute. Caracas Venezuela.
Scientific affiliations
Treasury of the board of the Venezuelan Society of Cardiology
Fellow Founder and past coordinator of the Cardiovascular Prevention Council. Inter American Society of Cardiology. Chairman of the Cardiometabolic Prevention Units Program.
Member of the Board Federation International Atherosclerosis Society. America`s
Venezuelan Governor: Inter-American Society of Hypertension
Honorary member: Equatorian Society of Cardiology
Fellow: Pan-American College of Endothelium
Teaching  experience
Medicine Internship professors at the emergency room at the Dr. José Maria Vargas Hospital La Guaira Venezuela
Professor and consultant in the Cardiology Post Doc Course and service Dr. Domingo Luciani Hospital in Caracas and began to work as (1997–until 2017), he organized and was the founder and former chairman of the cardiovascular prevention unit in that hospital.
Chairman of the   Diplomate in Cardiovascular prevention. Catedra 2.0 de Prevención Cardiovascular   Inter American Society of Cardiology
Dr. Ponte is an invited Professor of
University of Barcelona Spain for the Online Mastership Hypertensive disease and its comorbidities.
IESA: Instituto  Universitario de Estudios Superiores en Administración (University  Institute of Superior Studies in Administration. Non Communicable diseases and their impact in Socioeconomics.
You can read his full profile here: Dr Ponte Biography 2023
Contact