Editors' Section
The abstract deadline for ISCP's 28th Annual Scientific Meeting has been extended to October 6th. The meeting is being held in conjunction with the KSCVP and KSCP on 23rd-25th November 2023 in Seoul, Republic of South Korea. Fully online participation is also possible as the meeting will have a hybrid format.
Please Save the Date for the upcoming ISCP Council of Governors Annual Meeting to be held virtually on 13th December 2023. More details to follow shortly.
To keep up-to-date with the ISCP news and updates on new courses and events consider following us on: LinkTree; Twitter; LinkedIn; Facebook; or YouTube.
Please forward any news or information on upcoming conferences or meetings that you would like included in the December 2023 Newsletter to me at lisa.demos@monash.edu by 30 November 2023.
Editors: John McNeil, Lisa Demos &
Lourdes Marenco
---
President's Section
Dear friends and colleagues,
Welcome to the latest edition of our regular official newsletter! As the President of the society, it is my great pleasure to extend a warm greeting to all of you.
Our aim is to provide you with the most up-to-date and relevant information in the field of cardiovascular pharmacotherapy. Our team has curated a selection of new information, and updates that we believe will be of great interest and benefit to our esteemed members, especially junior colleagues. Together, we can continue to advance the practice of cardiovascular medicine and improve patient outcomes.
As you know, this year marks the 40th Anniversary of our Society, and the 28th Annual Scientific Meeting will be held on November 23-25 in Seoul, South Korea. Professor Marc Pfeffer from Harvard University will deliver the memorial lecture in honour of Henry Neufeld, who founded our society.

Please visit and find updated information on the official scientific meeting website at ISCP2023.org. I would like welcome all of you to join the upcoming meeting.
On behalf of the entire Society, I would like to express my gratitude for your continued support and dedication. Together, we can make a real difference in the field of cardiovascular pharmacotherapy.
Thank you and enjoy the newsletter.
Sincerely,
Sang Hong Baek
ISCP President
---
ISCP News
This year marks the 40th Anniversary of the ISCP. Since 1983, the ISCP has represented a forum for dialogue and cooperation among physicians, pharmacologists, pharmacists, and scientists worldwide.
---
SAVE THE DATE! Council of Governors Annual Meeting
This year's ISCP Council of Governors Annual Meeting will be held online on Wednesday 13th December 2023. More details will be announced shortly but, for those who are entitled and expected to participate, please mark your calendars!
---
ISCP renewed Website and a brand new Membership site
Our website has a refreshed look and a new User-Hub which you will be able to test as soon as you login so pay us a visit! We have also been working on creating a brand new membership page which has just been launched >>> https://www.membership.iscpcardio.org. Get a feel of our mission, goals, and what the benefits of being a member really are –spoiler alert; there's a lot more than you think you know! – Membership options include Web Membership (free), Full membership and, we are introducing a new tier called Associate Membership, being available as from the 1st January 2024. More details on who can apply for this category and how, can be found on the website.
---
Take Part in ISCP Educational Programmes 2024-2025
One of the many benefits of being an ISCP Member is to be considered as a keynote speaker for our accredited CME live webinars, to be part of the panel as an Expert, or to publish articles such as Expert Opinions or PEARLs about novel information that is relevant to the cardiovascular pharmacotherapy community. If you wish to take active part in our educational activities, please send an email to our Coordinator lourdesmarenco@iscpcardio.org with your areas of interests to discuss your involvement further.
---
ISCP 2023: 28th International Society of Cardiovascular Pharmacotherapy Annual Scientific Meeting

The ISCP Annual Scientific Meeting is being held in conjunction with KSCVP (Korean Society of Cardiovascular Pharmacotherapy), and KSCP (Korean Society of Cardiovascular Disease Prevention) meeting at the Conrad Seoul, South Korea on 23rd-25th November 2023. The meeting will be held in a hybrid format both in-person and online sessions. The Henry N. Neufeld memorial lecture will be presented by Marc A. Pfeffer (USA). The Scientific programme is available on the meeting website https://iscp2023.org . Abstracts must be submitted online via the "Online Submission System." The abstract submission deadline is 6 October 2023 with notification of acceptance by the 27 October. ISCP 2023 offers travel grants to international participants who have submitted an abstract.
Registration is free for all ISCP Full Members, local Residents and Students, and is discounted for Fellows, Researchers, Nurses, Nutritionists, Pharmacists and Corporate members. More information on this and travel requirements such as VISA applications on the meeting's website.
---
ESC 2023 @ Amsterdam
As you know, ISCP actively participated at ESC 2023 with a booth at the International Associations Row within the exhibition area. It was an excellent experience and a great way of supporting our goals of spreading the word of cardiovascular health and connecting to health care professionals in the field, as well as other organisations alike.
---
ISCP 25th Annual General Assembly 2023
The ISCP yearly General Assembly took place in Amsterdam – and online – on Saturday 26th August. Members of the Board, Governors and Full members had the opportunity to be presented with reports of the many projects and educational activities that took place during the year 2022. It was also a valuable opportunity to meet face to face with those who were in Amsterdam, and to catch up with ISCP friends, old and new.
---
News from World Heart Federation (WHF)
World Heart Observatory: upgraded version of the data hub for cardiovascular disease (CVD) released.
World Heart Federation Partners with Iqniter to Promote Heart Health.
Argentine Society of Cardiology: The Role of Agroecology in Cardioecology's Vision
Mortality, Cardiovascular Disease, and Long Covid: Insights from WHF Study Presented at ESC Congress 2023
---
ISCP Book Series: Current Cardiovascular Therapy
The Current Cardiovascular Therapy Series provides both an in-depth view of the science and pharmacology behind these drugs and a practical guide to their usage. Each volume contains practical illustrations and is designed to improve understanding and practical usage of cardiovascular drugs in specific clinical areas.
The Springer series includes 9 books available as e-books or in softcover at a discounted rate for ISCP members. These include: Antiplatelet and Anticoagulation Therapy; Pharmacological Treatment of Acute Coronary Syndromes; Atrial Fibrillation Therapy; Cardiac Drugs in Pregnancy; Pharmacotherapy in Aortic Disease; Pharmacologic Trends of Heart Failure; Pharmacological Treatment of Chronic Stable Angina Pectoris; ACEi and ARBS in Hypertension and Heart Failure; Treatment of Pulmonary Hypertension
---
European Cardiology Review (ECR) – Official ISCP Journal
We are delighted to share that in 2023 ISCP Journal was accepted for inclusion in the Journal Citation Reports 2023 list from Clarivate, with a Journal Impact Factor of 3.0, and ranked 9 out of 69 journals in ESCI's Cardiac & Cardiovascular Systems list.
The European Cardiology Review (ECR) is a PubMed indexed, peer-reviewed, gold open access journal comprising balanced review articles, systematic reviews, expert opinions and editorials. The journal is led by Editor-in-Chief Juan Carlos Kaski, along with Associate Editor Pablo Avanzas and is supported by an editorial board of world-renowned physicians.
The ECR website also provides access to a large range of additional relevant resources such as special focus collections, webinars, on demand videos and podcasts.
ECR volume 18 is available here with all articles free to read and download via the journal website. Recent articles include: Cardiovascular Disease and COVID-19 Vaccines: A Systematic Review and Analysis of Published Cases; Coronary Artery Spasm: A Special Focus Issue; The Evolution of Coronary Artery Spasm: How the Pendulum Has Swung; Gaps in Modern Heart Failure and Chronic Kidney Disease Research.
For information on submitting an article, please contact Jonathan McKenna, Jonathan.mckenna@radcliffe-group.com.
---
"ISCP Around the World" Meetings and Joint Sessions
Heart Café @ESC 2023, World Heat Federation booth – 27th August
ISCP Past-President Professor Juan Carlos Kaski chaired a discussion session titled "Unlocking patients' adherence in Cardiovascular Health".
The Heart Café welcomed congress delegates for a series of interactive discussions on key topics in the field of cardiovascular disease, noncommunicable diseases and global health.
---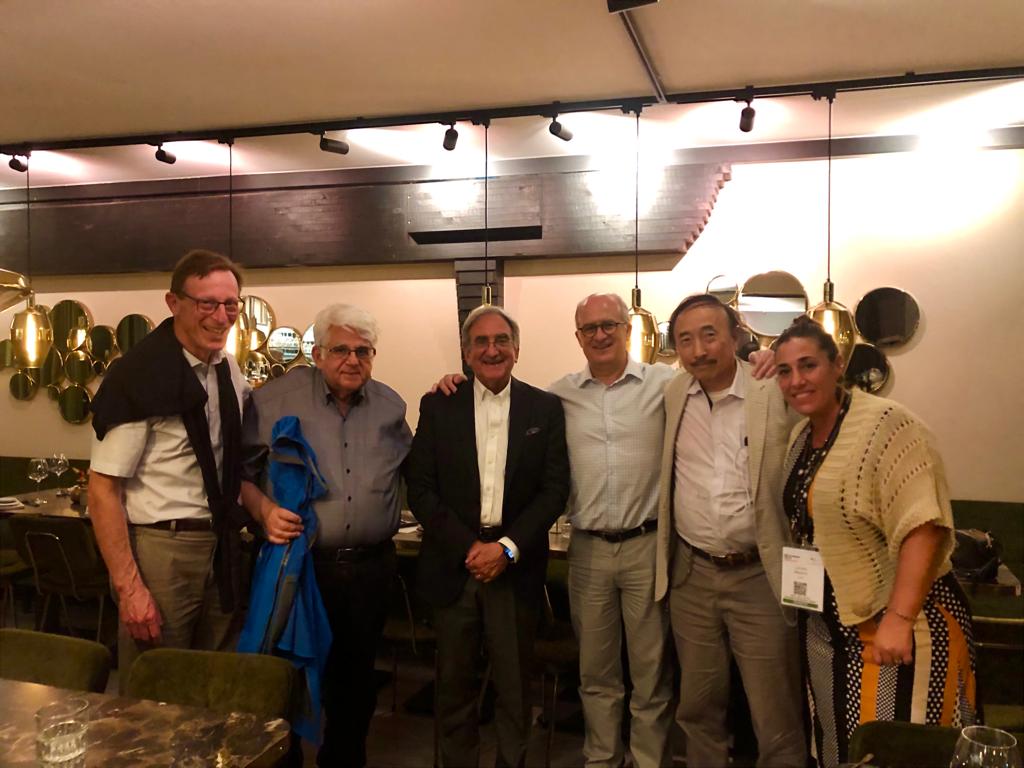 ISCP long standing members "catch up" dinner gathering, ESC 2023 Congress in Amsterdam – 27th August
Thomas Kahan (Sweden), Gheorghe Andrei Dan (Romania), Juan Carlos Kaski (UK), Antonio Martinez-Rubio (Spain), Koji Hasegawa (Japan), Lourdes Marenco (Spain)
---
Joint Session ISCP-ESC @ESC 2023 Congress, RIGA Auditorium – 28th August
The joint session was titled RNA-based therapy in amyloidosis. The chairs of the session were: ISCP President-Elect Alberto Lorenzatti (Argentina) on behalf of ISCP Director Felipe Martinez (Argentina) and Michelle O'Donoghue (USA). The speakers were Marianna Fontana (UK), ISCP Director Antonio Martinez-Rubio (Spain), Viviane Zorzanelli Rocha (Brazil) and ISCP Director Gheorghe Andrei Dan (Romania). If you missed it, you can still watch it online on ESC 365 platform.
---
Joint Session ISCP-Atheros Chile, Viña del Mar, Chile – 8th September
The VII Course: Update and controversies in the management of cardiovascular risk factors, from theory to Clinical Practice, with Alberto Lorenzatti (ARG), Rodrigo Alonso (Chile), Atilio Rigotti (Chile)
---
Joint Symposium ISCP-APSAVD, Kuala Lumpur – 8th & 9th September
The ISCP held a joint symposium with the Asian Pacific Society of Atherosclerosis and Vascular Disease (APSAVD) at its 16th Congress, held in Kuala Lumpur on 8-9 September 2023.
The ISCP was represented by Dr Alan Fong, who chaired the symposium; and Dr Osamu Baba, from the Kyoto University Hospital, Japan, who gave a delightful lecture entitled "Chemokine Receptor Targeting PET Imaging of Atherosclerosis".
Dr Baba was nominated by Dr Koji Hasegawa, Past President of the ISCP. Dr Baba's lecture was well received by the audience and drew questions from the Faculty at the APSVD Congress, including fellow speakers at the joint symposium – Dr Chen Ting Tan (Malaysia) and Dr David Colquhoun (Australia).
---
Upcoming Meetings, Courses and Workshops
---
Social Media
We are using the platforms below more frequently and all-important news and updates on new courses and events will be announced through those channels so in order to keep up to date please FOLLOW US!
---
To unsubscribe to the Newsletters please notify: Lisa Demos at lisa.demos@monash.edu or Lourdes Marenco, ISCP Coordinator & Project Manager at lourdesmarenco@iscpcardio.org
---