Dr. Vebiona Kartini Prima Putri MD, FIHA, FHFA is a distinguished cardio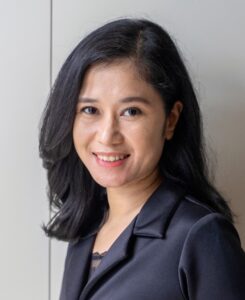 logist renowned for her expertise in the field. She embarked on her medical journey at the University of Indonesia in Jakarta, earning her degree in 2008. Her passion for cardiology led her to the National Cardiovascular Center Harapan Kita – University of Indonesia, where she achieved specialization in cardiology in 2015. Dr. Putri currently serves as a Cardiologist at the Heart Failure Clinic at Awal Bros Pekanbaru Hospital, situated in Riau, Indonesia.
Dr. Putri's dedication and enthusiasm are particularly focused on Heart Failure, an area in which she has made significant contributions. Her commitment to advancing the field is underscored by her Fellowship status as a Fellow of the Heart Failure Association of the European Society of Cardiology, an accolade she attained in 2021.
Dr. Putri is actively involved in several prominent organizations, including the Indonesian Heart Failure and Cardiometabolic Disease Working Group and the Asia Pacific Society of Cardiology Emerging Leaders. She has also been recognized as an invited speaker on Heart Failure at various prestigious events, both within Indonesia and across the broader Asia Pacific Region.
Furthermore, Dr. Putri serves as a vital member of the task force responsible for shaping the Indonesian Heart Failure Guidelines in 2023, contributing to the evolution of healthcare practices in her home country. In addition to her clinical and guideline efforts, she has authored numerous articles on Heart Failure, sharing her knowledge and insights with the medical community.
Dr. Vebiona Kartini Prima Putri stands as a distinguished figure in the field of cardiology, with an unyielding commitment to enhancing the understanding and management of Heart Failure, both locally and internationally.
Contact